Event Details:
Date:

-

-

Venue:

Macquarie Park, Sydney College of Divinity
St Cyril's Dean, Fr Daniel Fanous, will be presenting a paper at the SCD Annual Conference, "Romans and the Legacy of St Paul: Social, Theological & Pastoral Perspectives." The Conference will run from the 30th of September to the 1st of October and the keynote speakers for the conference are the noted scholars: Associate Professor Mark Reasoner, Marian University, Indianapolis, USA; and Professor Brendan Byrne, Jesuit Theological College, Melbourne. Fr Daniel's paper is entitled "Partaking in the Cruciform God: Deification, Justification and the New Perspective."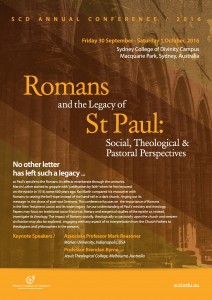 For more information see the flyer and the Romans Conference Program 2016. Registrations can be made through the SCD conference page.